<!********************************************************************> <! Insert Column Here > <!********************************************************************>
Christian students J.A.M. at Alumni Hall
By Eric Seymour
On Saturday night, February 22, with fifteen minutes left before the doors would open, there was already an eager crowd gathered outside. As they waited in anticipation, some students began conversations with complete strangers--and soon were interacting like they'd been friends for years.
What was this event that brought so many students together with a common bond? The second night of the new edition of The Empire Strkes Back? No, these were students from the many different Christian fellowship groups at I.U., who came together for a night of singing, praying, and learning about unity. The name of this event was "Jesus at Midnight," and was enthusiastically referred to as "J.A.M." by the students there.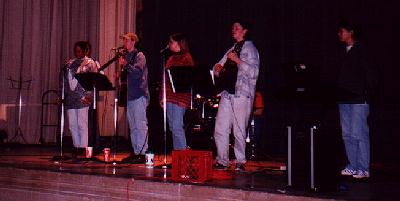 There is joy in the Lord
There is love in His spirit
There is hope in the knowledge of Him...
Let all wisdom and strength
Be the Lord's in this place
Let all glory be given to Him.
As the band got things started at about 9PM, the lyrics above set the tone for the next three hours. Junior Brian Cross didn't come with a lot of set expectations--he was invited by a friend and came to find out what the "J.A.M." was all about. He thought the significance of all these organizations coming together was that "It gets them all together mixed in, instead of just going to one [fellowship group]...you get to know more people."
After a variety of styles of praise and worship songs (including a few light-hearted songs which included interaction and served to "break the ice"), it was time for the message of the evening, as given by Kevin Leonard.
Leonard is president of Faith Campus Ministries, which is dedicated to the "racial reconciliation of the body of Christ on campus." He started out his talk by stating "I'm here to talk about unity."
Leonard compared the state of race relations in the United States to a fire-damaged dorm floor which had been repaired, but smoke residue was not effectively cleaned from the walls. Every time the air became moist, a smoky smell became noticable. In the same way, Leonard stated "We've tried to paint over the problem with affirmative action and the women's movement..." but every time an issue like the O.J. Simpson trial or the Rodney King beating comes up, the problem makes itself known again.
In conclusion, Leonard asserted that government programs alone cannot solve this problem of racism. He said we need a powerful cleansing agent--"the blood of Jesus." Leonard said he'd "often prayed for unity [at IU] and tonight is an answer to that prayer."
Students then gathered together--many with others they'd just met--and prayed for unity among Christians at I.U. and worldwide, and for revival on the campus.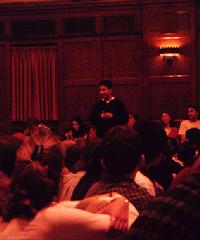 The evening was wrapped up with students standing to share testimonies from their lives. One student shared that he used to ask God to prove to him that He was real, and then stated "When I see the love between [the students here], I know that God is real...God is here with us." Another student said "I want us to keep in mind that tonight is not an end--it's a beginning."

Indeed, the students who helped to organize the "J.A.M." are already planning to meet again. There will be a similar rally on April 5 in Dunn Meadow to be called "Unity in Christ." Also in the works is an event for students from I.U., Purdue, Ball State, and Butler on April 18th. That event is being referred to as "SPARC"--Students Praying for Awakening and Revival on Campuses.

Freshman Hilary Thomas said that she'd like the success of "J.A.M." to "encourage other Christians to be encouraged to be more enthusiastic about their faith, and to encourage other students to...find out what [the event was] all about."

<! Closes Main Page Area>

<! Opens Left-Hand Column>