<! Opens Top-Left Corner>

<!*********************************************************************> <! Insert Volume, Number, & Date Below > Volume 3, Number 5

November 1, 1998

<! Closes Top Left Corner>
<! Opens Main Page Area>


---
<!********************************************************************> <! Insert Lead Story Here > <!********************************************************************>
College Republicans Work for Hostettler in Evansville
By Tara McCoy
Newburg, Indiana, was the site, College Republicans from Indiana University and the University of Evansville were the people, and door hangers were the business--about 6,000 hangers at least. This was not just an ordinary day.
College Republicans began Saturday, October 24 at the Evansville Days Inn with a speech by former Vice President Dan Quayle and Congressman John Hostettler. They then went to a Habitat for Humanity project site. Habitat was founded by Millard and Linda Fuller, who felt that the richest nation in the world should be able to provide housing for those who work. It is a non-profit, non-denominational, Christian housing ministry, with the goal of eliminating poverty housing in the world.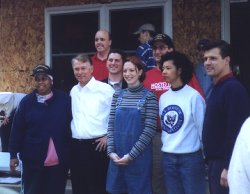 Quayle (second from left) and Hostettler (far right) pose with other congressional staffers and volunteers who helped build the house

It is well on its way with the help of people like Congressman Hostettler. To date, more than 50,000 houses have been constructed. Both Quayle and Hostettler met the group at the construction site, part of a project involving many members of Congress called "the house that Congress built." Our job was to help construct the house, but thanks to the overwhelming support of the community of Evansville our services could not be used. Another group from Sigma Alpha Epsilon fraternity had the construction under control and the house was steadily moving along.

The recipient of the house was there and very excited about the opportunity. She was found to be in need and also willing to help with the payments. She will pay a 1% down payment and will have a 20 year no-interest mortgage. This is a great opportunity for those citizens who can not afford a house on their own.

On to the next order of business, the group moved on to Newburg to begin our door-to-door visits. All of the College Republicans were taken to various neighborhoods in the town in pairs of two. Their job was to canvas the area hanging campaign literature on as many doors as they could in the allotted time. In all, they placed about 6,000 hangers. These were hangers promoting and encouraging the citizens to vote for the re-election of our congressman John Hostettler. This was an awesome event and was very helpful toward the re-election of our congressman, John Hostettler.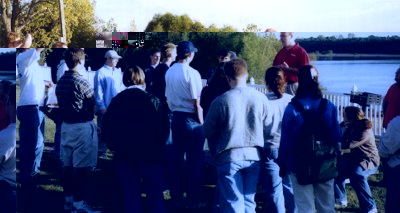 Standing by the Ohio River, campaign coordinator Chris Crabtree (red shirt) thanks the students at the end of the day for their help in distributing 6,000 Hostettler flyers
Additional articles in this issue:
Scott Tibbs explains that America deserves a tax cut

<! Closes Main Page Area> <! Counter and surfto button>
---
Hoosier Review has been accessed
times since 2/4/98.



<! Opens Left-Hand Column>